This is an ongoing Digital Humanities project, created by Allia Service in the Spring of 2022 at the University of Oregon as a part of Dr. Mattie Burkert's ENG 470 class. For a quick introduction to the blog, here's my first post: cooking on the internet for fun and credit.
---
Historical Background
Lilian Tingle was a domestic scientist. Domestic science is one name for the field most popularly known as Home Economics (Household arts, Domestic Economy). Domestic science was a Progressive Era social movement to reform the way Americans cooked and ate. It coincided with a period of change in household labor and cooking. Middle class women, who in previous generations were expected to hire working class domestic servants to do household labor, including cooking, could no longer afford domestic service. Domestic economists attempted to rhetorically transform household labor from drudgery to profession. While we might think of home ec as the most traditional of all fields, at the time it was a radical reform movement reshaping American attitudes toward food, cooking, and household labor. This movement helped invent the American housewife.
Tingle was a quintessential domestic scientist. She lived a nontraditional independent life, traveled widely, and had a successful career, as she counseled housewives on how to fulfill their domestic roles. Tingle was born in Sheffield England, and studied domestic science at college in Aberdeen, Scotland. In 1899 she immigrated to North Dakota to teach domestic science, and by early 1905 she was in Portland working as the head of the YWCA's School of Domestic Science. She started writing for the Oregonian in 1905 after a brief stint as Portland's first female market inspector. She wrote for the Oregonian newspaper for the next 30 years, at first writing instructional columns on home cooking which were soon overtaken by her hugely popular correspondence column. In 1918 she moved to Eugene to found the University of Oregon's Home Economics department which she ran until her retirement in 1930. After she retired she traveled widely in Eastern Europe and wrote a series of travel articles for the Oregonian. Both of Tingle's brothers were well respected chemists, by all accounts Tingle was very close with her brothers and probably helped raise her niece and nephews during certain periods.
When Tingle was getting an education domestic science was seen as the female equivalent to the male dominated sciences, particularly chemistry. In that way, Tingle followed the same path as both of her brothers in pursuing scientific careers, but hers was rendered unrecognizably distinct because of gendered education. Tingle's published writing indicates that she was satisfied with her career, and had a real passion for domestic science, cooking, and teaching. She is something of a contradiction to a modern viewer, an unusually independent woman, a professor and writer, who never married or had children of her own, but in her professional life committed to helping women fulfill the role of housewife, a traditional role by modern standards. Tingle, like the field of domestic science, is understood better in her own historical context. She upheld dominant standards of affluence, whiteness, and thinness and operated under the assumption that women alone should be responsible for feeding their families. But the columns also complicate this image of Tingle. Her correspondents pushed her to consider new types of foods and ways of running homes, and she was often curious and respectful to differences. While young brides made up a substantial portion of her correspondents, older women, young girls, and bachelors also wrote to her. She was a resource for a huge number of people who needed someone to teach them to cook and answer their questions.
About the Project
This project started in the Winter of 2022 as my capstone paper for my history major in Dr. Steve Beda's HIST 407 course. I wrote an original research paper based on Tingle's columns. For that project I created a data set using data from the columns that I used to support my research. One piece of information I recorded is the city or region each one of Tingle's correspondents was writing from over the years I analyzed. Dear Miss Tingle, allows me to look at that data, and the research I did in a new way by using digital tools. I'm interested in further exploring Tingle's column as a form of community building around food media and comparing her community to online food communities today. I hope that by mapping my geographic data users can get a better idea of the breadth of Tingle's correspondence network and the geographic landscape of the Pacific Northwest in the early 20th Century.
Land Acknowledgement
I want to acknowledge that as I build this project at the University of Oregon, I live and work on Kalapuya land. The Kalapuya people were dispossessed from their land following treaties between the Kalapuya and the federal government in 1851 and 1855. After this dispossession they were forcibly removed from their land, and their descendants are now citizens of the Confederated Tribes of Grand Ronde Community of Oregon and the Confederated Tribes of Siletz Indians of Oregon. As a student, I am part of the institution of U of O which received federal funding and federal land that was only available because of the forced removal of the Kalapuya people.
The work I'm doing is also fundamentally connected to the Pacific Northwest, and the land that is now known as Oregon, Washington, Idaho and California. The maps I built are representative of settler borders, and don't include indigenous borders or communities. I don't know exactly who Tingle's correspondents were, but based on the demographics recorded in the U.S. census, they were likely overwhelmingly white settlers. During the period the column was being written most Indigenous people in the Pacific Northwest had already been forcibly removed to reservations by the U.S. government. The Kalapuya people were one of several tribes that was forcibly removed to the Siletz and Grande Ronde reservations. By the time Tingle's columns started the Oregon state government and federal government were actively engaged in shrinking the reservations and breaking other treaty promises like payments, sawmills and teachers.The servers that host this website are located in Phoenix Arizona, on Akimel O'odhham and Hohokam lands. Because my project touches all of the Pacific Northwest I want to draw attention to the vital work being done by the Confederated Tribe of Warm Springs, as they navigate an ongoing water crisis. The Warm Springs tribe still does not have reliable access to safe water, this is both a health crisis and an environmental crisis. You can learn more and donate here.
About the Author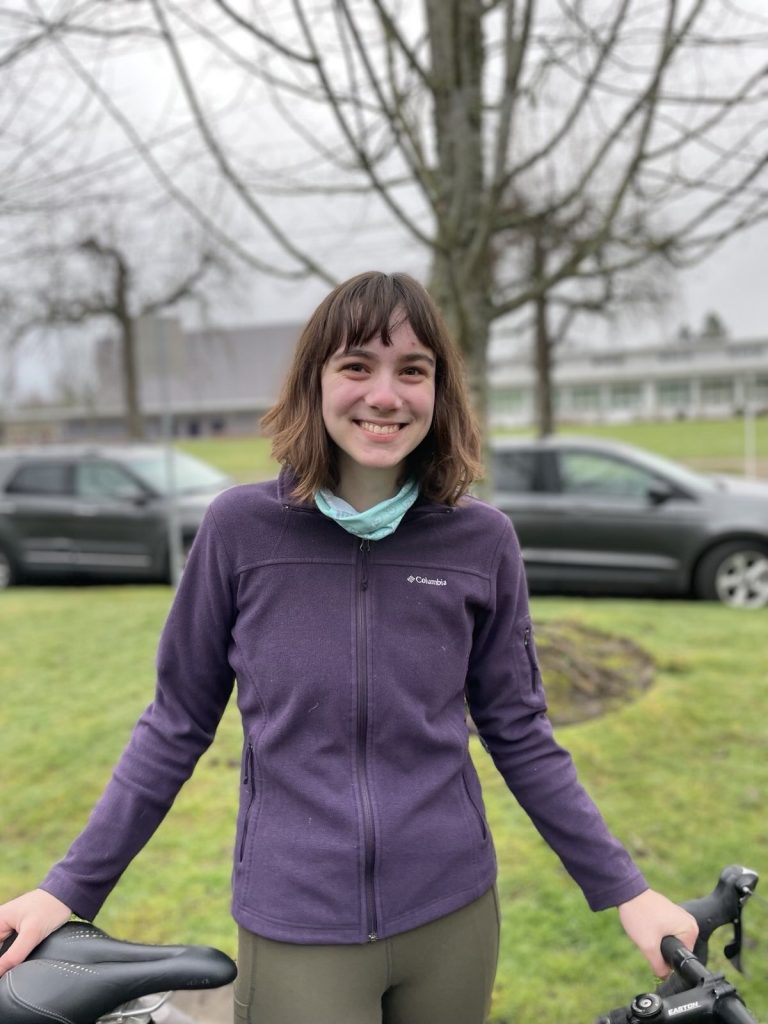 My name is Allia Service, I'm a senior majoring in History and minoring in Digital Humanities at the University of Oregon. You can visit my personal website to learn more about me, or visit my twitter to learn less.
header image: The Sunday Oregonian. (Portland, Ore.) 1881-current, January 18, 1914, section 5, page 7, image 61 « Historic Oregon Newspapers. https://oregonnews.uoregon.edu/lccn/sn83045782/1914-01-18/ed-1/seq-61/